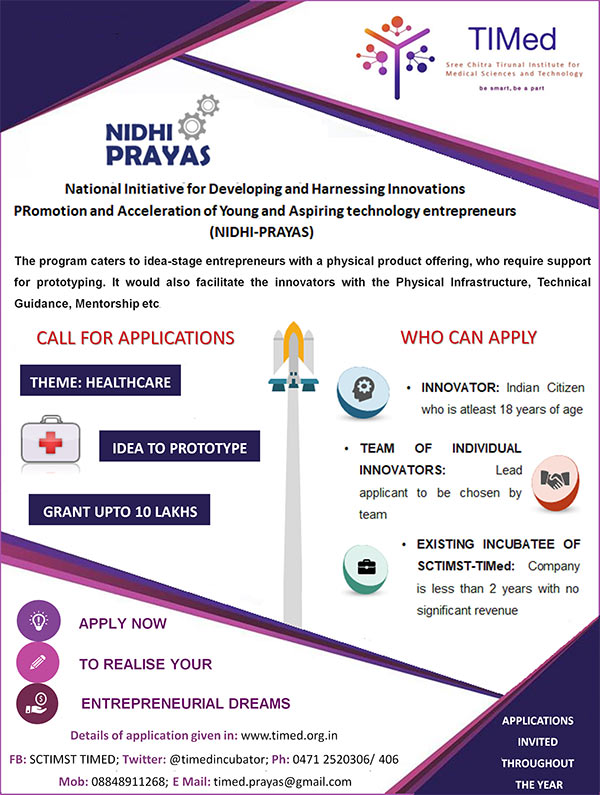 Grant in Aid and Support for Early Stage Innovators
At present, even though there are several schemes for supporting innovation projects, there is a profound lack of support for early stage prototyping & trying out of innovative ideas causing many innovators to lose interest in their ventures in the absence of support at that critical juncture.

There is a definite need to address the gap in the very early stage idea/ proof of concept funding. National Initiative for Developing and Harnessing Innovations (NIDHI) is an umbrella programme conceived and developed by the Department of Science & Technology (DST), Government of India, for nurturing ideas and innovations (knowledge-based and technology-driven) into successful start-ups.

Under this initiative, DST has launched National Initiative for Developing and Harnessing Innovations- Promoting and Accelerating Young and ASpiring innovators (NIDHI-PRAYAS) program. This program caters to idea-stage entrepreneurs with a physical product offering, who require support for prototyping. It would also facilitate the innovators with the physical infrastructure, technical guidance, business mentorship etc. This support shall allow the innovators to try their ideas without fear of failure, hence allowing them to reach a stage where they have a ready product and are willing to approach incubators for commercialization. Hence NIDHI-PRAYAS can be considered a pre-incubation initiative and a source of pipeline for incubators.
Objectives of NIDHI PRAYAS
To enable translation of an innovative idea to a prototype.
To provide a platform for faster experimentation and modify approaches in the idea to market journey.
To generate innovative solutions relevant to the local and global problems.
To attract a large number of youth who demonstrates problem solving zeal and abilities to work on their new technology/knowledge/innovation based startups.
To enhance the pipeline in terms of quality and quantity of innovative startups to the incubators.
To build a vibrant innovation ecosystem, by establishing a network between innovators, academia, mentors and incubators.
SCTIMST-TIMed is selected as a NIDHI PRAYAS Centre with effect from 2018 and is currently implementing the programme
Guidelines for applicants under NIDHI PRAYAS at SCTIMST-TIMed
NIDHI PRAYAS program at SCTIMST-TIMed will provide funding support for converting innovative ideas into prototypes which are in healthcare, medical devices and/or biomaterials
All applicants for NIDHI-PRAYAS support grant will apply as per the application format of NIDHIPRAYAS - Application form
The maximum support can be provided per innovator/incubatee is upto Rs. 10 lakhs.
The NIDHI-PRAYAS grantee should be registered for the pre-incubation or incubation program at SCTIMST-TIMed for the entire duration of the program, after going through the TIMed's selection process. The terms and conditions of incubation/preincubation will apply
NIDHI-PRAYAS grantee should be fully committed to work towards the prototypedevelopment for which the support is being sought and should not treat this as a stop gap arrangement to support any other pursuits.
The innovator can avail the NIDHI-PRAYAS support only once and they should not have sought the similar support previously, from other Government of India organisation/Institution for the same innovative concept as proposed in the application form.
If the innovator is pursuing to build a prototype from their institute/organization IP, then in that case innovator will take no objection certificate from the appropriate authority of their institute/organisation for use/IP transfer / ownership in favour of the innovator/start up.
If the applicant is studying /working in an institute/organization, they should get a no objection certificate from that respective institute/organization for applying to NIDHIPRAYAS.
Who can apply?
A. Eligible for NIDHI PRAYAS
SCTIMST-TIMed supports only innovations based on healthcare, medical devices and biomaterials under NIDHI PRAYAS program
1. Individual innovator:

Innovator is required to be Indian Citizen at least 18 years of age as on date of application. An Indian citizen is defined as one who is in possession of a government approved proof of nationality such as a valid passport, voter's ID etc.

2. Team of individual innovator:

If the team wants to pursue the project, then there has to be an agreement among the team about the lead applicant and the lead applicant have to apply for NIDHI-PRAYAS. The financial support (after the selection process) will be given to the lead applicant on behalf of the team

3. Existing incubatee of SCTIMST-TIMed

a) The company is less than 2 years and wants to develop the prototype for anew product, for which they may not have received similar kind of support.

b) Company should have no significant revenue at the time of application.

4.Preference may be given to those innovators

a. Who have bootstrapped or have got co-investment commitment.

b. Who have clear road map for commercialization or start up creation.

c. Women innovators

d. Young innovators
B. Not eligible for NIDHI PRAYAS
1. Student applicants pursuing long term research projects like doctoral researchprojects or similar projects will not be supported
2. Professors or Academicians engaged in teaching with any academic or R&D institute cannot be supported.
3. The projects relating to software development and those involving pure academic research are not eligible.
4. Any institute/organization (not being a start-up company) to develop an IP into prototypecannot be supported.
5. Any innovators working/pertaining to an institute/organization for converting their IP into prototype cannot be supported.
6. Any idea which is part of academic research work carried out at the institute/personal level cannot be supported.
7. Any idea that is developed into prototype where the IP could vest with anyInstitute / organization cannot be supported.
Benefits of NIDHI PRAYAS
The selected innovators (who will be known as NIDHI-PRAYASEE) can avail the following benefits:

A grant of up to Rs 10 Lakhs to build the prototype (depending upon requirement of the project and as decided by screening committee of SCTIMST-TIMed)" .
Access to infrastructure of SCTIMST-TIMed and mentorship
Access to a well equipped Digital Fabrication Lab- PRAYAS SHALA (under implementation) which will be opened up to grantees soon
SCTIMST-TIMed pre incubation/ incubation programe as appropriate to the selected proposals.
For further details on NIDHI PRAYAS programme at SCTIMST-TIMed please contact:
Mr Aswin R Krishnan
Project Coordinator-Nidhi Prayas
Mob: 8089761608
Email: timed@sctimst.ac.in, timed.prayas@gmail.com

Download NIDHI PRAYAS-Company Application Form
Download NIDHI PRAYAS-Individual Innovator Application Form
NIDHI PRAYAS-Team of Innovators Application Form


Please send the completed applications and supporting documents to timed.prayas@gmail.com.
---